Welcome to O.W.L. Outdoor Wisdom and Learning
What is O.W.L.?
"Nature provides for those who have the Seeing Eye. There is food, drink and the wherewithal for living anywhere, for those with Outdoor Wisdom and Learning."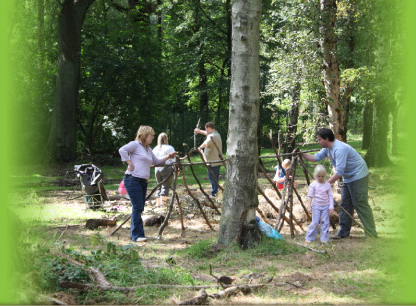 The concept of Forest Schools originated in Sweden (known as Rain or Shine) and then spread to the rest of Scandinavia and parts of Northern Europe. The concept of it was brought back to the UK by Bridgwater College in the 1990's and named Forest Schools. By taking children outside it encourages them to learn social, physical and educational skills whilst appreciating and understanding the environment. Since it was introduced into this country, the delivery of it has spread rapidly, especially within the early years and primary schools sectors. Since its creation, O.W.L. has worked with the staff and children of over one hundred different establishments, from at least five different counties/Local Education Authorities, ranging in age from birth to degree level (not include the days where O.W.L. runs sessions for the general public). The most advanced Forest School groups having spent the last five years with O.W.L. covering all manner of activities linked to the outside and the curriculum.

What has also become more noticeable in recent times is the number of people/organisations that are now trying to mimic O.W.L. with regards to their provision of Forest Schools within the education sector. With a professional background in education, O.W.L. has been working the way it has been; linking texts, doing practical's, raising awareness...quite naturally and competently for years. Other providers, without this background, are now trying to do the same, however, O.W.L. will not charge you a fortune for this experience and you can be certain that you will receive training from people who know what they are talking about. Whilst the other providers could be viewed as a form of flattery, O.W.L.'s commitment is to the children and staff and what they are able to do after we have been with them, not the 'bottom line!'
By doing sessions in this way I aim to pass on my love of the outdoors!
Some of my personal and professional credentials are- Qualified Teacher (1995) BEd (Hons) 2:1, Forest School Leader L3, Level 4 Forest School Instructor, Survival Instructor L3, Enhanced CRB, ITC First Aid, Forest School Supplemental First Aid, Emergency First Aid in the Wilderness, Safe Guarding L1, MAPA, Food Hygiene L2, Manual Handling plus People, Health & Safety, Mini-bus, Tree-felling and British Sign Language.
O.W.L. - offers two main routes into the outdoors- Forest Schools and Wilderness Living Skills (a.k.a. Survival and Bushcraft).  For more information about each pipeline please click on the links.
And, as Ellsworth Jaeger, 1945 once said..."Let us follow the trails into the unknown. Let us keep alive the spirit of adventure and of romance, and drink deep of the great cup that nature holds for our thirsting spirits and bodies."